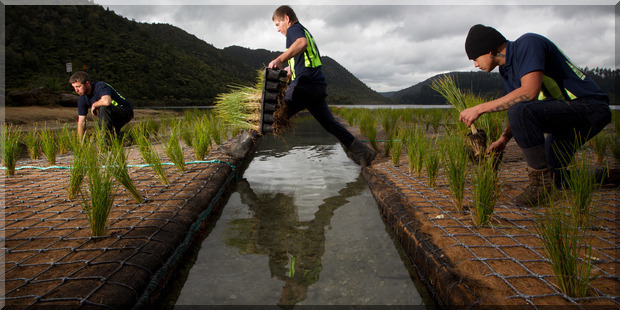 Floating wetland built in 2015
The slalom course on Tikitapu had a Blue Drum safety barrier outside it. Tikitapu is one of the jewels of the Rotorua Lakes. This barrier was a bit of an eyesore. It was clearly visible from the top carpark and also to the many visitors and tourists who enjoy walking around the lake. This replacement structure looks amazing and will only get better as the vegetation grows.
Surprisingly Tikitapu is not at its target levels for water quality. The traditional use of a floating wetland is to remove nutrients from the water table. The plant roots grow down into the water column to around 1m under the matrix, and absorb huge quantities of phosphorous, nitrogen and other nutrients. The shape of this wetland makes it very efficient for this purpose and we look forward to Tikitapu reaching its target water quality level.
Fishermen in the know fished alongside the previous drum barrier as it was a magnet for fish and this wetland will be better. Fish love to live under structures. Koura and other aquatic life thrive in wetland roots making it a smorgasboard for fish, and also the resident dabchicks.
As the plants grow it will turn into a perfect breeding site and predator free haven for the rare dabchicks which nest in reeds and plants on the shoreline. For some reason the dabchicks seem drawn to the slalom course area and we have had a resident population there for many years. We are looking forward to seeing an increase in their numbers
RWSC has been based at Tikitapu for over 60 years. To date we have had one of the most exposed slalom courses in the country. It is exposed to prevailing winds and also boat wakes from other lake users. Nationwide the waterskiing community is very excited about this new wetland.
The Journey
  
  It began as a dream of the RWSC committee several years ago. Initially looking to fund it from one source proved impossible and the whole project was stalling for a couple of years. Club Treasurer Paul Laing came up with the idea of family of funders. On this basis community funding organisations were eager to contribute. It started with the Rotorua Energy Charitable Trust. It was their initial offer of support and on-going encouragement from their staff and trustees that were instrumental in making this happen. RWSC is immensely grateful to our family of funders listed on this page, not just for their financial support but also for their ideas and encouragement along the way. Acknowledgment must also be made to the support gained from TeArawa Lakes Trust and BOP Regional Council with Resource Consent. Lastly RWSC sends out a huge thanks to 
Kauri Park Nurseries
and
Water Clean Technologies
who built and installed the wetland. We gave them a difficult brief with anchoring problems, a serious prevailing wind and a 2.41m lake level variance. They really had to get outside the box to come up with solutions. We highly recommend their services.
The family of Funders
Resource Documents
Proposal_Water_clean_technologies
Tikitapu Floating Wetland details
Waterclean Quality Managment certificate